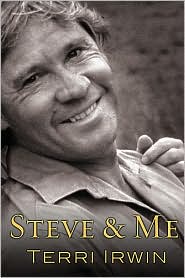 Steve & Me
By: Terri Irwin
Non-Fiction
5 Stars
I loved this book--not for the literary value (frankly, Terri Irwin is not an incredible writer), but for the sheer honesty and candor. I felt I was reading her journal and could sense the great love shared within their marriage and within their family. Prior to reading this account of the Crocodile Hunter's life (from the perspective of his soulmate), I did not know much other than the fact that he was Australian. Throughout the course of the book, I grew to love him and his family. It even made me want to go out and save the whales. [sidebar: For those of you who don't know, I am not an animal person. Not a hater by any means (I still have a soul), but I didn't grow up with them so they are unfamiliar territory that I have never EVER tried to familiarize myself with. end sidebar]
If Terri Irwin's goal was to demonstrate the loving nature of her husband as well as promote the conservation efforts around the world, she accomplished it in a very unpretentious, gentle way. I've been converted. I don't know that I will be one of the Irwin Wildlife Warriors, but I am slightly more aware of WHY people love animals the way they love their own families.
This is a light read that I would recommend if you are interested in learning more about their lives (which is fascinating). However, sentimental folks beware. I postponed reading the last two chapters for a week and a half because I knew the outcome and felt as if I was losing a personal friend. Lame, I know. But I'm good at making personal connections while I read and I submit that as a Reading teacher, I was just fulfilling my professional duties in relating to the text.
The Best Test Preparation for the TExES 101 Generalist EC-4
Test Preparation Reference
I took the EC-4 Generalist exam Saturday morning. While the manual suggests a 7-week study program (4 weeks if you want the "fast track"), I only allocated 4 days. The manual comes with one diagnostic exam online and a second inside. It was rather boring, but I got a 93% so I can't complain. Now I can teach any subject to your Pre-K through 8th grade children in the state of Texas. Booyah.