Jonas insists on being held for a large portion of the day, which has afforded me the opportunity to sit down in a rocking chair and read (when I am not catching up on Project Runway and Shear Genius--embarrassing, I know). I love to hear about good books from other people, so I decided to pay it forward and offer my two cents about what I've been reading since the birth of our son. This is also a way for me to keep track of what I have read and what I liked/disliked about each story. Warning: I have 10 boxes full of a 5th graders classroom library and my literature selections reflect that. Currently I prefer these easy reads where I can take away a message if I want to, but I can just read it for enjoyment if I choose to do so.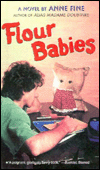 Flour Babies by Anne Fine; Realistic Fiction; Book Level 5.2; 5 stars
Summary: The low-achieving high school class is assigned to take care of 6 pound sacks of flour (pretending they are babies) for a science project. Simon Martin comes to terms with his potential, with his father leaving him, and with the strength of his own mother as she raises him. The condescending teacher and other typical staff are subtly entertaining. Great voice.
The Golden Compass by Philip Pullman; Fantasy Fiction; Book Level 7.1; 3rd person; 4 stars
Summary: 11-year-old Lyra travels with a group of gyptians to free children who have been taken by Gobblers, while being hunted by the Gobblers herself. She uses a truth instrument to guide her dealings and is also unknowingly an instrument in a greater fate. Well-written, though starts off extremely slow (I'm glad I persevered--the beginning was so boring but it picked up later). Suspenseful throughout, details are in order, and enjoyable. Disappointing ending--sets up for a sequel instead of wrapping up the story. And if you've seen the movie...the book is far better and ends in a different, more surprising manner.
Walking to the Bus Rider Blues by Harriette Gillem Robinet; Historical Fiction; Book Level 4.1; 1st person; 4 stars
Summary: Follows Alfa (male) and his sister Zinnia in segregated Montgomery during the bus boycott. The story addresses prejudice, especially as the family worries about being able to pay the rent since they are both experiencing theft and being accused of theft as well. Strong vernacular. Easy to understand; message is still strong.
Farewell to Manzanar by Jeanne Wakatsuki Houston and James D. Houston; Non-Fiction; Book Level 6.7; 1st Person; 3 stars
An account of Jeanne's experience in a Japanese internment camp called Manzanar during WWII. Interesting; shows camps were not like concentration camps, but were not a walk in the park either. Houston reflects on her proud father (without painting a "golden" image of her family). Not condemning--just an account of what happened, how it affected her family, and her subsequent coming to terms with the experience at a later age. Very honest; as a minority, certain aspects of apologetically fitting into American culture resonated with me.
Shredderman 1: Secret Identity by Wendelin Van Draanen; Realistic Fiction; Book Level 3.3; 1st person; 3 stars
Summary: 5th grader Nolan Byrd finds a way to creatively stand up for himself against the school bully by creating a secret internet identity and helps others do the same. Fun, easy read.
Alice's Adventures in Wonderland (unabridged) by Lewis Carroll; Fantasy Fiction; Book Level 7.4; 3 stars
Through the Looking Glass by Lewis Carroll; Fantasy Fiction; Book Level 7.6; 3 stars
These two books can go together. They are very imaginative and were forerunners to children's literature written for adult entertainment. Feels like a 7-year-old's stream of consciousness. Details are limited so it is difficult to create mental images and the conversation is very abrupt.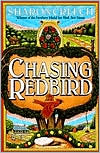 Chasing Redbird by Sharon Creech; Realistic Fiction; Book Level 5.0; 1st person; 2 stars
Summary: 13 year old Zinnia taylor copes with the loss of her Aunt Jessie by clearing 20 miles of a recently discovered trail between two towns. Struggles with being the "unknown" child in a large family and is suspicious of the intentions of pursuer J Jake. Poor character development, but interesting insight into the grieving process.
All is Well by Kristin Embry Litchman; Historical Fiction; Book Level 4.2; written in 3rd person; 2 stars
Summary: Follows daughter Emmy who is part of a Mormon polygamist family and her relationship with a "Gentile" neighbor in Salt Lake City during the 1800s. Her father must go into hiding due to the persecution of polygamist families. The book has simple language and is easy to understand. The dialogue is not particularly well written, but it does give interesting insight into why polygamy was practiced and how families could live that way.
The Happiest Baby on the Block by Harvey Karp
Worked wonders in silencing Jonas' screams in mere seconds.
On Becoming Babywise by Gary Ezzo
Interesting ideas about feeding and getting babies to sleep through the night. For me personally, it's more appropriate for a baby who is about 3 months (although he suggests to start the process at birth). Helped me learn not to nurse the baby to sleep and we've reaped the benefits of doing so.
The Breastfeeding Answer Book by La Leche League International
Saved. My. Life.
What to Expect the First Year by Heidi Murkoff, Arlene Eisenberg, and Sandee Hathaway
I've read through three months of age. It's a helpful guide. I wish I would have read all the newborn stuff before Jonas was born.
Heading Home with your Newborn: From Birth to Reality by Laura Jana and Jana Shu
Written by two pediatrician mothers and helped me understand some of the finer aspects of babies that had me worried--fevers, umbilical cord care, etc.